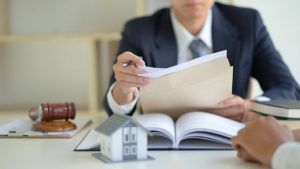 Real Results & New Clients – Fast and Guaranteed
All new campaigns are launched within one week of the client signing up. Once the campaign is launched the ads are optimized, running, and generating results within one week. Our performance and your new clients are guaranteed from the very first month.
How It Works
We've broken our process down to 5 easy to understand steps:
1. We create a marketing site to attract and capture your new clients
Using a simple yet effective template, we create a custom one page website to represent you. The website has a professional layout and look, explains your legal services, the local area you serve, and tells why you are the one they should contact for their legal needs. Click below to view a sample site:
2. We install a tracking telephone number to track and record calls
On your site we'll display a unique phone number which will allow us to track every call generated through your campaign, and the tracking phone number will ring through to where ever you specify, even to a cell phone if necessary. This allows us (and you) the ability to know exactly how well the campaign is working, or if it's not.
By default we also record all calls coming in through your tracking phone number. This gives you the ability to listen to the actual calls from the new clients generated from the campaign. You will hear for yourself how well qualified these new clients are, as well as have a record of verbal communications between you and them.
And don't worry, it's legal. We provide the FCC required intro to record the calls and handle the entire set up process.
3. We install an email form to capture email inquiries from your new clients
These email forms are part of your marketing site, and give the user the option of sending an email as opposed to calling you. Here's what happens when someone completes the email form:
1. The entire contents of the email are immediately sent to your email address (and any other recipients you choose to receive copies)
2. A text alert (SMS) is immediately sent to you and your other recipients alerting you that a new email lead was just generated.
3. A back-up copy of the email is permanently stored in our tracking system- you will have 24/7 access to the online tracking system
*NOTE: The email and text alerts are also sent to your and your other recipients each time a live call is generated. These call alerts provide you with the caller's name and phone number so that you can give them a call back if you missed their incoming call.
4. We set up your own exclusive, local online marketing campaign
We then create your own Google Ads campaign that will attract and capture your new local clients. The clients we generate for you will be perfect matches, people in the geographical area that you chose and who are looking for legal help with the exact type of case(s) you chose to target. We will direct them to your marketing site where they see you, and only you. When they contact you to discuss their legal needs, they'll be contacting you directly. Every lead generated is a live inbound lead. And the local market that we target with your campaign will also be your exclusive territory which means we'll never promote a local competitor of yours in the same geographic area.
We work across the entire Google network which consistently generates the highest quality exposure and results for our clients. The Google network is responsible for approx. 80% of all search traffic and provides cutting-edge optimization tools which allow us to optimize your campaign more effectively than if using any other platform.
Within the first week of launching your campaign your ads will be displaying at the top of the first page in your local search results.
5. 24/7 access to our tracking system and your performance and results
We will provide you with your own username and password so that you may log into our system anytime to view your activity and leads. While in your account you'll be able to view your call log, listen to each of your phone calls, and read all of your email leads that were generated by your campaign.
After hours is a great time to log in and listen to your employees, or yourself on the phone. Phone call audio files are uploaded for you to hear approx. 30 minutes after the actual time of the phone call.